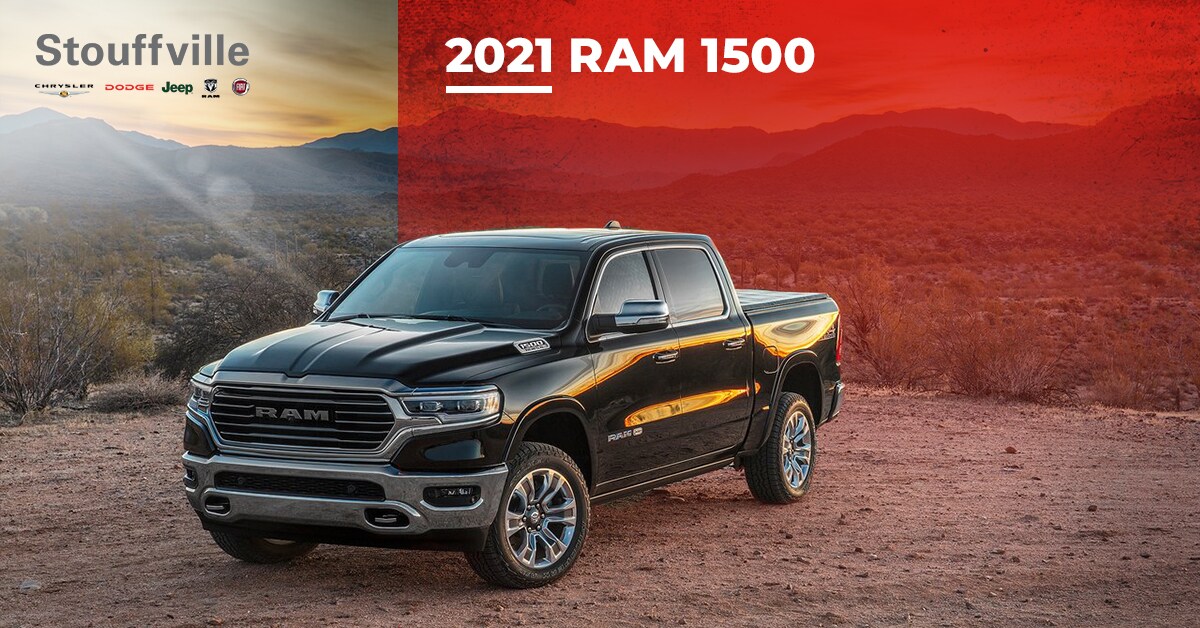 Get a 2021 Ram 1500 for Big Power!
Since 2018, the RAM 1500 has never left the top three full-size trucks according to Le Guide de l'auto. In 2020, it was proclaimed the big winner thanks to its comfort and power. If you decide to make a work tool out of one of our RAM 1500 forsale, rest assured: it will be your best collaborator on the job site.
The Stouffville Chrysler Dodge Jeep RAM SRT dealership par excellence in Whitchurch-Stouffville has the full line of 2021 RAM 1500. In this blog, we tell you all about this full-size truck and its latest version, the 2021 RAM TRX.
Versatile and Super Powerful!
Until recently, the RAM 1500 was available in five distinct engine variants. First, there's the 3.6-litre V6 that develops 305 horsepower and 269 lb-ft of torque. Staying in the V6 lineup, the RAM 1500 EcoDiesel produces 260 horsepower and 480 lb-ft of torque, which is very attractive if you have to tow additional equipment.
The V6 eTorque version with a 3.6-litre engine spits out 305 horsepower and 269 lb-ft of torque. This version is more environmentally friendly and can rely on a 12 kW battery. But if you're looking for an even more powerful eco-friendly version, consider the 5.7-litre V8 eTorque, which produces 395 horsepower and 410 lb-ft of torque. The same power is found in the 5.7-litre V8 petrol engine.
A TRX RAM for 2021
However, American engineers had not said their last word in terms of increased power. In 2021, the RAM 1500 featured a new version of thunder, the TRX. Not only is it more powerful than previous versions, the TRX is awesome off-road.
Under the hood is a supercharged 6.2-litre V8 engine that produces 702 horsepower and 650 lb-ft of torque. This full-size 4X4 truck is super-powerful and offers all the attributes of an efficient truck on the job site and on the roughest roads. It is attractive and has cutting-edge features, especially with the Uconnect system.
With this system, you'll have everything at your fingertips; the infotainment is user-friendly, and the menus are clear and perfectly simplified. Germain Royer, the automotive expert, goes so far as to say that "it's definitely one of the most successful and complete infotainment systems in the industry". (Le Guide de l'auto 2021, p.601)
In 2020, RAM was said to be the most comfortable of all trucks on the Canadian market. In 2021, I can tell you that comfort is very much back. The ergonomic seats will allow you to travel long distances without feeling tired. The finishing touches show that the American manufacturer did not skimp on this aspect. In fact, the cabin of the RAM is quite simply a gem, and its exterior look gives it a kick.
In short, if the 2021 RAM 1500 were to be rated, it would easily get an A+. Since 2018, and even before that, it has always been an inspiration to people who work hard on construction sites. Not only will the RAM accompany you everywhere, you can also give it a lot to do and it will always rise to the occasion! The 2021 RAM 1500 offers you versatility, it is extremely powerful, high performance and comfortable like no other.
The Best Dealer for a 2021 RAM 1500 Is in Whitchurch-Stouffville!
When you're preparing to buy a full-size truck like a RAM 1500, you want to make sure you have a team behind you to support you in your choice. The people at Stouffville Chrysler Dodge Jeep RAM SRT in Whitchurch-Stouffville know what they're talking about.
Our experts will take the time to listen to your needs, present you with all the options available, provide you with accurate information and guide you in your final choice. A talented team that knows the 2021 RAM 1500 inside and out is at your full disposal to help you make an informed choice. We assure you will get the best customer service you can hope for.
Even more spectacular, our prices are unbeatable, and our financing solutions are tailored to your needs. Don't wait any longer, come to Stouffville Chrysler Dodge Jeep RAM SRT today; we're waiting for you!