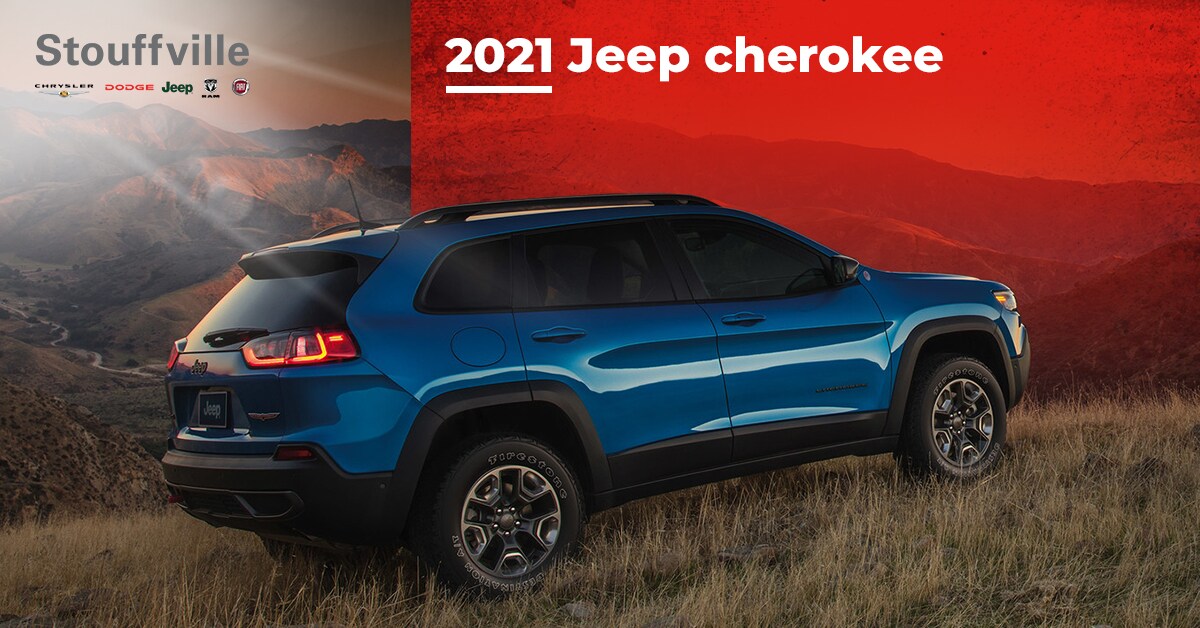 In 2015, worldwide Jeep sales reached a record high of 1,237,583 units. Since then, global sales have continued to grow, and the Jeep Cherokee remains one of the top-selling models in the world and the United States. In Canada, the seven-vertical-line compact SUV also has a strong presence in the hearts of Canadian consumers.
Stouffville Chrysler Dodge Jeep RAM SRT, your Whitchurch-Stouffville dealer, presents its flagship SUV, the 2021 Jeep Cherokee.
---
80th Anniversary Edition for 2021!
If the Jeep Cherokee lineup is impressive in 2021, it's probably because the FCA Group has been able to offer consumers even more informed and innovative choices.
The 2021 Jeep Cherokee is powered by three distinct engines. First, a 2.4-litre four-cylinder engine that develops 180 horsepower and 171 lb-ft of torque. Second, a 2.0-liter turbocharged four-cylinder engine that produces 270 horsepower and 295 lb-ft of torque. Finally, the most powerful is the 3.2-litre V6 engine that spits out 271 horsepower and 239 lb-ft of torque.
Even more spectacular, the FCA group has put out an 80th anniversary edition for 2021. The model can count on a front-wheel drive, extra features and a much sportier look. A true all-rounder, the 2021 Jeep Cherokee can tow 4,500 pounds with plenty of low-end torque. In your Jeep, you'll feel that smooth ride both on the highway and in the city.
Inside, you'll find heated seats, Android Auto and Apple CarPlay in addition to several storage spaces. With an 8.4-inch screen and a fast, easy-to-use infotainment system, the 2021 Jeep Cherokee will get you where you want to go. Get ready for the ultimate adventure.
At the controls, you can be sure to lead the way with a high ground clearance. If we give it a perfect score in terms of ride comfort in the city and on the highway, note that thanks to its all-wheel drive, the 2021 Cherokee is also great off-road. This versatility is what sets it apart from other SUVs in its class.
In short, the 2021 Jeep Cherokee is available in many different versions, and its 80th anniversary edition is sure to get you hooked! It is sporty, elegant, dynamic and versatile. Moreover, this SUV model includes several driving assistance technologies. It includes blind spot warning and lane departure warning systems, pre-crash assistance with automatic emergency braking system, and many others all designed to ensure your safety and allow you to drive with complete peace of mind.
While the acronym "Jeep Enough Essential Parts" was the best way to describe this vehicle in its early days, today Jeep Cherokee proudly stands at the top of its class. All in all, Jeep SUVs have proved their worth over the years. Indeed, since 1986, Chrysler has brought a healthy dose of modernity to its Jeeps, particularly its Jeep Cherokee, which remains a benchmark in the market.
---
Stouffville Chrysler Dodge Jeep RAM SRT: a Team of Experts!
It is often said that car dealerships all look alike. If this adage is partly true, since car dealerships all sell both new and used vehicles, you might want to reconsider your Stouffville Chrysler Dodge Jeep RAM SRT dealership.
There, an extremely talented team with experienced advisors awaits you. They listen to your needs, take the time to present you with all the options available and guide you in the final choice of your next vehicle. What's more, our advisors enjoy building long-term trust-based relationships with customers and provide exemplary service.
Our experienced technicians in the service department will take care of your vehicle and make sure it is properly maintained and repaired. They know Jeep products inside and out, so they'll make sure that all necessary adjustments are made. Rest assured, you'll be in good hands with us.
Come and discover our 2021 Jeep Cherokee today and leave an overall winner!